Our History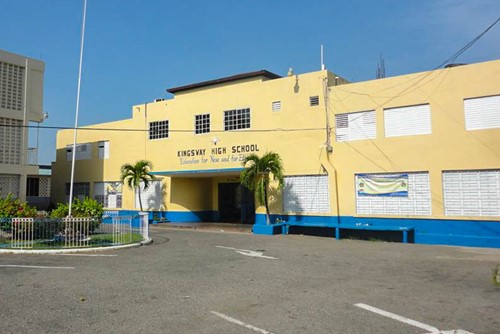 In the early 1940s, there was a growing number of Seventh-day Adventist youth. It became obvious that the establishment of a Seventh-day Adventist high school was of paramount importance.   Pastor H.S. Walters, the Missionary Volunteer and Education Director of the East Jamaica Conference of Seventh-day Adventists, in collaboration with David Walker, W. Powell, E.E. Walters, N.B. Reid, A.R. Haig, C. Kerr and V.E Atkens, President of the East Jamaica Conference, started an intensive campaign to convene a constituency meeting, in conjunction with the Ministry of Education, to determine the feasibility of a secondary school as well as its impact on the community.
The constituency meeting, having been convened, resulted in Miss Eva Williams and Mr. V.H. Percy being selected to recruit students for the school.
In 1942, a building located at 43 South Camp Road, Kingston, which formerly housed a private secondary school (The Ranger Jones High School), was rented.   On January 10, 1943, New Hope College opened its door with an enrollment of 83 students and a faculty of five.  The name New Hope was chosen because it represented a new hope for the youth of the church.
Miss Eva Williams, a graduate of the then West  Indian Training College (now Northern Caribbean University), and who had already established the Williams Preparatory School in Vineyard Town, was invited by the conference to join the staff of the new school.  She accepted this invitation and brought along some of her students. This small group of students was used to establish a preparatory department, and Eva Williams became the first head of that department.   Mr. V.H. Percy, a graduate of Mico College and who was at the time teaching in Ocho Rios, was also asked to join the staff.
Two years after the school was established, two students, Pearl Bell and Myrtle Haffenden, sat the Cambridge Examination and were both successful.  Elder V. Berry, the first administrator of the school, in an effort to provide moral support to the two students, also re-sat the Cambridge exam and for the second time was also successful.
In January 1945 the school was moved to 32 Lyndhurst Road, Kingston, the present location for R.J.R. (Radio Jamaica Redifusion).  The school remained in this location until December 1946. Pastor Stanley Bull, who came from England, served as its principal through that period.  During his administration, a record was set in 1946 when 20 students took the Senior Cambridge Examination and all were successful. 
In 1946, Number 10 Osbourne Road, Kingston was purchased by the West Jamaica Conference of Seventh-day Adventists for 17,000 English Pounds. On this property there was a two-story building which formerly housed the Huntsden High School, a private secondary high school.
In January, 1947 the school was relocated from 32 Lyndhurst Road to 10 Osbourne Road and was housed in the two-story building.  With this relocation, the school's name was changed from New Hope College to Kingsway High School.
In 1954 the decision was taken to build a new school, and on October 14, the cornerstones of a new building were laid.  Among those who laid stones were the then Acting Mayor of Kingston and St. Andrew, Councillor G.P. McFarlane; Pastors A.C. Stockhousen, President of the British West Indies Union;  and Pastor H.S. Walters, President of the West Jamaica Conference.   Among those present were: Pastor O.E. Gordon, Young People's Secretary; Mr. V.H. Percy, Principal of Kingsway High School; Pastor A.R. Haig, Pastor in charge of Education; Pastor C. Blackburne, Secretary of the British West Indies Union; and Pastor E.V. Schneider, Home Missionary Secretary of the British West Indies Union.
In 1961 the adjacent premises were acquired and the Preparatory Department was built during the administration of Mr. V.H. Percy.  Mr. Percy holds the record of serving the longest as administrator of the school.  He retired in 1969 after 24 years of service.  Miss Eva Williams served the school as a teacher for 31 years.   Her last act was to sponsor a plaque for the preparatory school on which her name is inscribed. 
During its 74 years of existence, Kingsway has seen many dedicated board chairmen and principals.  The Board chairmen were:  Pastor F.E. White, Pastor J.G. Bennett, Pastor M.E. Weir (a past student), Pastor J.A. Allen (past student), Pastor P.N. Hosten, Pastor Derek Bignall, Pastor M. Gregory, Pastor Adrian Cotterell and currently, Dr. Eric Nathan.
The principals from the inception of Kingsway High School to the present were:  Elder V. E. Berry, Elder E. E. Parchment, Mr. Leslie S. Crawford, Elder Stanley S. Bull, Elder J. L. Crawford, Elder William A. Holgate, Mr. Voysey H. Percy, Elder Herman Mills, Elder O. Rugless, Pastor Samuel. Campbell, Mr. Eric Pryce, Mrs. Andita White, Pastor Hugh Maynard-Reid, Pastor Lincoln McKenzie, Pastor Derek Bignall, Mr. Fitzroy Davis, Pastor Errol Thomas, Mrs. Lunette Wright (a past student), Miss Vilma Ferguson, Dr. Stevel Beckford, Mrs. Evadne Barrett, Dr. Judith Nembhard (a past student), Mrs. Claudette Genas, Ms. Redva M. Ferril, Mr. Jaron Whitely and Mrs. Alethia Williams.
Kingsway has also seen vast improvement to its physical plant which includes the addition of classrooms, the instructors' staff room, chemistry, physics and biology laboratories, computer laboratory, administrative block, clerical, guidance, dean of discipline offices, library and vocational area.  
The uniforms of Kingsway High School have undergone a metamorphosis.  The uniforms for the boys have always been khaki shirt adorned with the school's epaulet and   crest. In the early years, the boys in the preparatory and lower school wore short pants.  The uniforms for girls have undergone significant changes. They started with a pleated navy blue skirt with a white blouse and black beret. Next, they adopted the navy blue gore skirt with a pinafore and then graduated to a navy blue tunic, white blouse and a jippy jappa hat.  Administrators continued to make changes, upgrading to a full green pleated skirt with a waistband and a green blouse with gold trimming on the collar. A further upgrade led to an A-line tango blue, clear lilac and sandalwood tunic with a white blouse. Presently the young ladies are attired in a royal blue tunic and white blouse designed by Mrs. Rose Ryan, a former vice principal of the school.
In recent years, several additions have been made to the curriculum. Courses added included Business Studies, Food and Nutrition, Clothing and Textiles, Technical Drawing, Computer Studies, Social Studies, and Art and Craft. Recently, Wood Work was made available to the lower school students.
We are also proud of the academic achievements of our students.  In the Preparatory School, since the inception of the GSAT Examination, most of the students have performed outstandingly.  In our high school, the students sitting the GCE/CXC Examinations have brought honor and recognition to the school, passing 6,7,8,9,10,11,12 and as many as 13 subjects.
Special mention must be made of Dr. Lloyd Dayes and Drs. Lennox and Ouida Westney, Derrick and Carol Jones as well as the Kingsway High School Alumni Association, New York Chapter Inc., who have contributed liberally to the upkeep of the school and who have for many years offered scholarships to worthy students.  Thanks to the dedicated administrators, teachers, alumni, friends, and well-wishers who have given their services to make Kingsway High School the success it has been.  
Via Regis Optima Est!
Long live Kingsway High School.